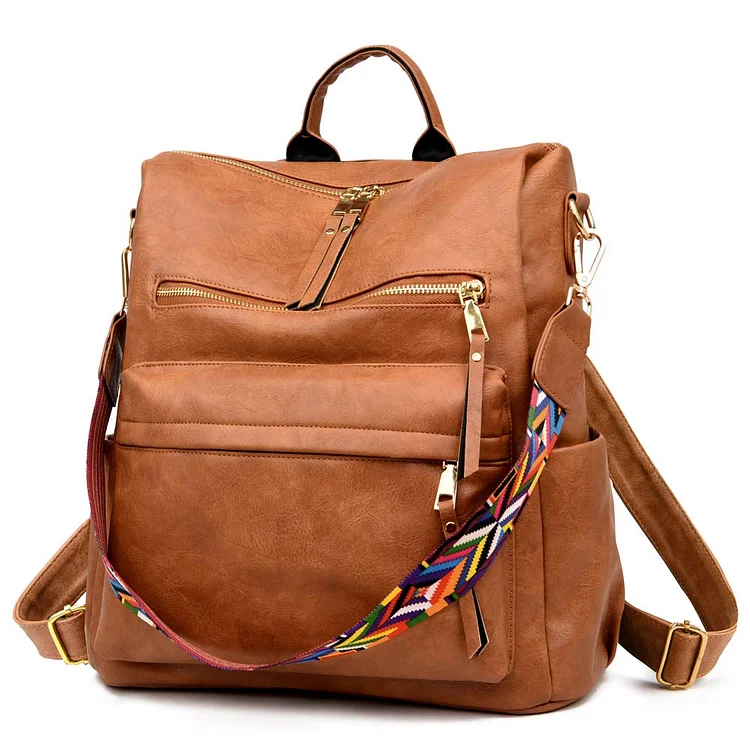 *Polyurethane lining/Zipper closure/Dry Clean Only

*Versatile and Stylish: This trendy women's backpack purse is the perfect blend of a handbag and a backpack. Ideal for work or travel, it transitions effortlessly from a professional women's leather work bag to a chic, fashionable travel companion for ladies on the go.

*Premium Material: Crafted from high-quality PU leather, this women's backpack purse ensures durability and is also eco-friendly. Lined with soft poly fabric, it adds a touch of sophistication to your collection of ladies' leather handbags and backpacks.

*Practical and Spacious: This women's leather bag features a rich pocket design inside and outside, providing ample space for your essentials. Its dimensions are approximately: bottom width 12.3 inches, bag height 13.4 inches, thickness 6.5 inches. Perfect as a cute, trendy daytime carry-on or a professional work bag.

*Convertible Design: Equipped with adjustable backpack straps and a detachable multicolor shoulder strap, this bag can easily be converted from a backpack to a handbag to a crossbody bag, matching your women's fashion outfit or mood.
Secure and Easy to Use: The bag features a double zipper design for secure storage and easy access to your belongings. It's perfect for the modern, trendy woman on the go.